9" Radar Driver Feedback Sign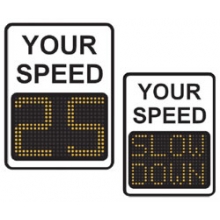 Product Code:
9" Radar Driver Feedback Sign
Availability:
Pre-Order
9" Radar Driver Feedback Sign
TraffiCalm's 9" speed warning solution is the most affordably priced and fully-featured radar
driver feedback sign to support traffic calming in one small and modular footprint.
Built to last, easy to install and programmable through Bluetooth connectivity, the 9" DFB sign
promotes increased safety and reliability for every street in America.
● 5 Year Warranty, ISO9001 Certified Facility
● Crystal Bright Visibility by Design with Amber LEDs
● 9" Speed Display Numbers with 2-line 3" 'SLOW DOWN' Text
(with 9" Emoticon 'Smile' or 'Sad' Face)
● Weatherproof Sealed Electronics Modular Platform for Ease of Installation
● MUTCD R2-1 Regulatory Size: 18"w x 24"h, in a trim 1-7/8"depth
Next Generation Solution - Today!
TraffiCalm's new generation of full-matrix radar driver feedback signs offer a com- plete solution
for the traffic calming dilemma that is cost-effective for limited budgets while giving users
unquestionable quality in both product design and performance.
DriveBrite™ 9" Radar Driver Feedback Sign
Ideal for city and residential streets, urban corridors, private roads and industrial parks, the 9"
DFB sign is the practical solution for today's restrained traffic calming funds. The sign
delivers all the features and functionality required to encourage drivers to adhere to posted speed
limits and comes in a small and modular profile for ease of shipment, installation and maintenance.
With the capacity to display both speed numbers and 'slow down' text, Traffi- Calm has merged
simplified speed dependent messaging into one highly-visible and efficient quality package.
Speed analysis is simplified with TraffiCalm's SafetyCalm™ data collection software. The
straightforward and license free sign management program is menu driven and comes with a
pre-programmed and automatically generated set of reports that provide traffic engineers
with an uncomplicated view of speed data statistics along with the option to download raw data for
additional comparative analysis. Onboard Bluetooth Class 1 communications allows for connectivity
up to 300 feet for sign programming and the transfer of information records.
Write a review
Your Name:
Your Review:
Note: HTML is not translated!
Rating:
Bad
Good
Enter the code in the box below: